Sometimes the hardest part of any fitness journey is the first step. That's something UK singer, TV presenter, radio host, and now personal trainer Fleur East knows all too well.
East recently joined Sweat's team of global trainers with a new six-week workout program called Energising HIIT with Fleur, and wants beginners to know one key thing.
You don't have to be "in to fitness" to start.
"You can be at any level to start your fitness journey. Everyone has a day one and anyone who is super fit now had to start somewhere, so you should never let your fitness level discourage you," East tells 9Honey.
READ MORE: Kayla Itsines' advice for some of the most common fitness hurdles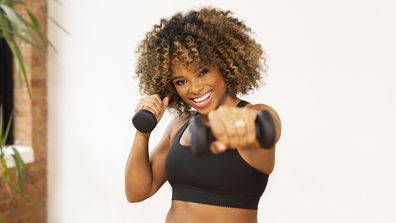 To help get you started, East shared some of her top advice for beginners.
Q: How do you take that first step?
It sounds simple but you just need to make a start. Do that first online class, take the induction at the gym, go for that walk, whatever it is, just go for it and over time you will start to feel the benefits and it will spur you on.
Through my new program, I want women to have fun while they're training with me and feel like we are in it together. You never regret a workout when you finish it.
Q: What made you decide to become a personal trainer?
I've always had a passion for fitness and exercise has been a huge part of my life so I decided to get qualified so I could train others. I really enjoy the way exercise makes me feel and wanted to help others on their fitness journey.
Q: What have you learned from your own fitness journey?
Exercise has always given me energy and kept me focused. When I was younger my Dad used to make me and my sister do push ups before we brushed our teeth.
I remember taking part in netball and running the 200m race on sports days, exercise has always been a part of my life in some way.
Over the years I've learned that fitness has to be part of your lifestyle, rather than a punishment or quick fix. It's always been about the way it makes me feel above anything else – the physical results are a bonus. 
READ MORE: 5 tips to get back into exercise after a time out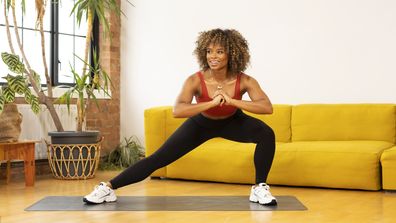 Q: Best advice for fitting exercise into a busy schedule?
Just start small. If you have 10 or 20 minutes, you can fit in an express workout or you could add exercise into your day in the form of a walk instead of driving.
It's important to take small steps first and then once you start to enjoy how exercise makes you feel, you will make time for it.
Fleur East's new program is available exclusively in the Sweat app.
For a daily dose of 9Honey, subscribe to our newsletter here.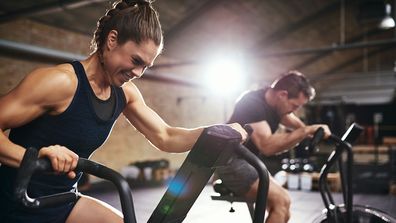 Which type of exercise burns the most calories?
https://coach.nine.com.au/fitness/sweat-trainer-fleur-east-beginner-exercise-fitness-tips/6d3a29d5-2f22-4ff6-ab3d-cc22bf552a08